Grilled Peaches & Cashew Crème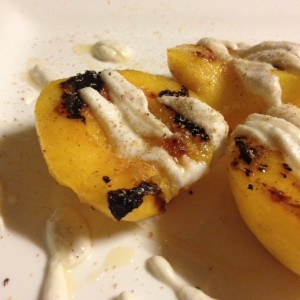 This recipe is a variation of a summertime treat, and an easy way to please everyone at your cookout.
Grilled Peaches & Cashew Crème
1-2 ripe peaches per person, peeled and pits removed
1/2 c. raw cashew pieces
1/2 c. water
juice of half a lemon
honey or maple syrup
freshly-grated nutmeg
To make the crème, pulse cashews in a food processor on high until the mixture is the consistency of flour. Add water and lemon juice and blend until smooth, white and creamy. The crème can be made ahead and refrigerated until serving.
Lightly brush peach halves with olive oil and place cut-side down on a skillet or grill. Allow peaches to sear (2-4 minutes). Turn if desired.
Arrange grilled peaches on a serving dish and spoon cashew crème on top. Drizzle honey or maple syrup over the plate. Garnish with freshly-grated nutmeg. Serve immediately.