Episode 93: Three Poems for October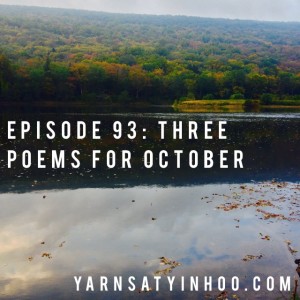 This episode includes the following segments: Chin Waggin' Ever-expanding Skill Set, The Back Porch, The Front Porch, and Off the Shelf.
It's October, and in this episode I share three new-to-me poems that I think you'll enjoy.
Indian Summer by Diane Glancy
Neighbors in October by David Baker
Raking Near the Great Works by Megan Grumbling
---
 Ever-expanding Skill Set
I made sweet potato and roasted red pepper hummus, using an adaptation of this recipe, suggested by kuntzknit. This spread is great on sandwiches, as a dip for vegetables, and as a decadent addition to some pulled pork quesadillas I made with leftovers.
---
The Back Porch
Three Color Cashmere Cowl by Joji Locatelli
---
The Front Porch
Miranda by Josée Paquin
Hallowig by Megan Reardon
Bushwalk Beanie by Amy van de Laar
---