Episode 83: Secrets of Red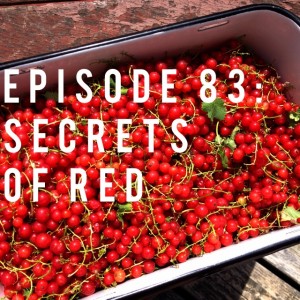 This episode includes: Ever-expanding Skill Set, The Back Porch, The Front Porch, and Off the Shelf. Did you know that keeping your kitchen counters tidy and your cabinets organized can actually help you meet weight loss goals? In this episode, there's more about counter space and tips for perfect corn-on-the-cob. I know . . . it's a controversial topic, but I'm confident that you will want to try this version if you're not already preparing corn-on-the-cob by using your grill. Plus, the intoxicating chapter on Red in Victoria Finlay's book about color.
---
Ever-expanding Skill Set
For seriously good corn-on-the-cob:
Remove only the very outer layers of market-fresh corn.
Soak corn in cold water for about 30 minutes.
Place corn on a HOT grille (450 degrees). Keep grille lid closed.
Turn corn once or twice and rotate from outer to inner portion of grille.
After about 15 minutes (or once the husk is completely charred) remove from grille.
Peel back husk, easily remove silk, and slather with butter and sprinkle with salt.  Use a square of lovely bread to apply a pat of cold butter.
Prepare extra ears of corn and freeze the kernels!
---
Check out this awesome interview with Brian Wansink, author of Slim by Design.  He recommends 5 ways to reduce calorie intake by re-thinking the way food is organized in your kitchen.
---
Off the Shelf