Episode 71: Persian Endearment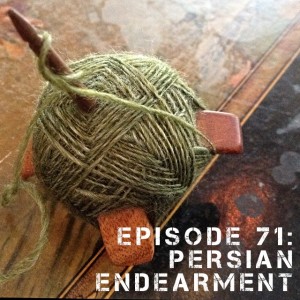 This episode includes the following segments: The Back Porch, The Front Porch, Off the Shelf and Double Happiness.  I talk about my completed Drape Front Sweater and two new projects (one on the needles and one on my new Kuchulu, a Turkish spindle from Jenkins Yarn Tools). In response to listener requests, I read a longish passage from Marilynne Robinson's Housekeeping, in which there is reference to the book's title. Finally, I announce a new contest (enter to win on Ravelry) and provide an update on my technology grant.
---
The Back Porch
Drape Front Sweater by Roberta Rosenfeld in Bartlett Yarns sport cone
The Front Porch
Ashburn by Melanie Berg                                                                in Green Mountain Spinnery yarns                                                  and Jacob yarn from Ross Farm
Hobbledehoy battlings in the Folklore colorway                              on my new Kuchulu from Jenkins Yarn Tools
Off the Shelf
This week, we'll be reading the final two chapters of Housekeeping, a short novel by Marilynne Robinson.  Of course, you are encouraged to read at your own pace and take part in the conversation happening on the Ravelry discussion thread.  In this episode, I read a long passage from Chapter 6, in which some important references to the book's title appear. The passage begins with a reference to a quote from Thoreau's Walden.
Double Happiness
Thanks to a generous contribution from Deb (L1ttleredhen) there are two skeins of lovely green yarn available for a giveaway this month.  I'll draw for a winner when the Yarns at Yin Hoo group  on Ravelry reaches 400 members.  If you've been listening, but you're not a member of the group, you should join!