Episode 40: Juxtaposition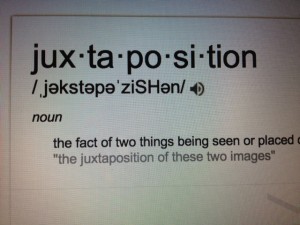 This episode includes the following segments: Yarn Lover at Large, The Front Porch, The Back Porch, Ever-expanding Skill Set and Double Happiness.
LISTEN:
Asymmetri-CAL
Have you heard?  Yarns at Yin Hoo will be hosting its very first craft along in August. Post to the Asymmetri-CAL planning thread on Ravelry to let me know that you plan to join us. Simone Eich of WOLLWERK designs will give one of her patterns to five lucky people who post to the planning thread. If you're interested in knitting one of Simone's patters for the CAL, be sure to link to it in your post. There are also some excellent prizes for FOs. More on that later.  For now, let's review WHY you should take part in this CAL. Asymmetrical lines can be slimming because the eye moves with them as they cut across the body. Asymmetry also creates a pleasing contrast to feminine curves. Asymmetrical garments and accessories can be quirky and fun, or deeply dramatic. I typed "asymmetrical" as a search term on Ravelry and some fantastic designs came up. Anything asymmetrical will count in the CAL — design, construction, even use of color.
Yarn Lover at Large & The Front Porch
Last weekend, Samuel and I spent some time in Vermont after the Bovine Social Club played a great show at Caffe Lena. On Saturday, we spent the day with family at my sister's camp near Pittsfield. We had lots of laughs, great food, and a beautiful rainbow. Before leaving the area, I made a point to visit Green Mountain Fibers, a shop in Rutland which I have passed many times. This time, I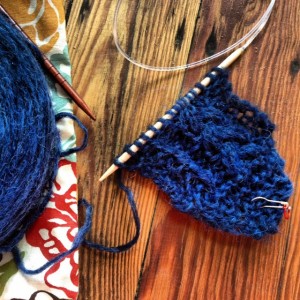 had plenty of time for a leisurely visit. It's a beautiful, well-stocked shop and Kathleen was helpful and very knowledgeable about her yarn and fiber. I purchased some unspun Icelandic yarn, perfect for Emily Estrada's Shield Maiden pattern and suitable for the Fibertrek's Island Wool KAL. The color is a bright, icy blue. You need to try knitting with this yarn. Kathleen had a little swatch going near the display. I picked it up to knit a few stitches and was convinced that it was just the thing for Emily's pattern. At $8.50 for 300 yards, it is also very affordable. This product has more stitch definition than I would have expected for an unspun, un-plied yarn. And Icelandic wool is supposed to be some of the warmest on Earth.
The Back Porch
Upon returning from Vermont, I was able to complete the chain plying of Pollination, a gorgeous gradient from Patricia of Beeybee Fibers. I love spinning BFL. Hand-dyed by Patricia, it's even better. This fiber spun into 353 yards of a chain ply to preserve the gently shifting color. I keep searching patterns, trying to decide what this yarn will become.  I'm thinking about pairing it with a  neutral to knit a Leftie shawl.
Ever-expanding Skill Set
Ginger Amaranth x 3 Muffins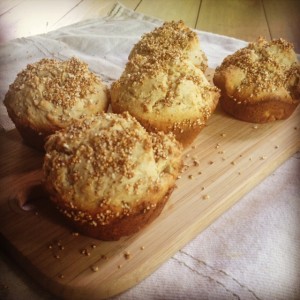 Soak 2 tblsp. amaranth overnight, or use cooked amaranth in the muffin batter.
Coat a small saucepan with a thin film of oil.  Heat oil on high, and add 1 tblsp. amaranth grains.  Cover and shake to pop the grains like popcorn.  It's okay if some grains don't pop.  Toss popped amaranth with a dash of fine sugar and cinnamon.  Set aside.
Prepare a standard 12-muffin pan with butter or muffin papers.
oven 400
In a large bowl, sift together 1 2/3 c. amaranth flour, 1 c. all-purpose flour, 2 tsp. baking powder and 1 tsp salt.  Make a well in the center of dry ingredients.
In a small bowl, whisk together 1 large egg, 1 1/4 c. milk, 2 tblsp. honey, 2 tblsp. sugar, and 3 tblsp. melted butter.
Pour wet ingredients into dry and quickly fold together.  Before the mixture is completely incorporated, fold in 1/3 c. finely diced candied ginger and 2 tblsp. soaked or cooked amaranth.
Drop spoonfuls of batter into prepared muffin tin. Top with reserved popped amaranth.
Reduce oven to 350. Bake for 20-25 minutes or until inserted skewer comes out clean.
Cool on a baking rack and enjoy for breakfast or a healthy snack.
Double Happiness
The next episode of Yarns at Yin Hoo will feature an interview with Patricia Briceño of Beesybee Fibers. Since I began spinning just over a year ago, I have made quite a few purchases from the Beesybee Etsy shop. I'm never disappointed. I longed to know more about Patricia's methods of dyeing, and her attitude toward her craft. She agreed to an interview. We've been exchanging audio files over the past few weeks and I'm excited to mix down our audio files for YAYH listeners. Check out Patricia's blog. She's also teaching a felting class at the end of June. If you live on the West Coast, check it out.