Episode 25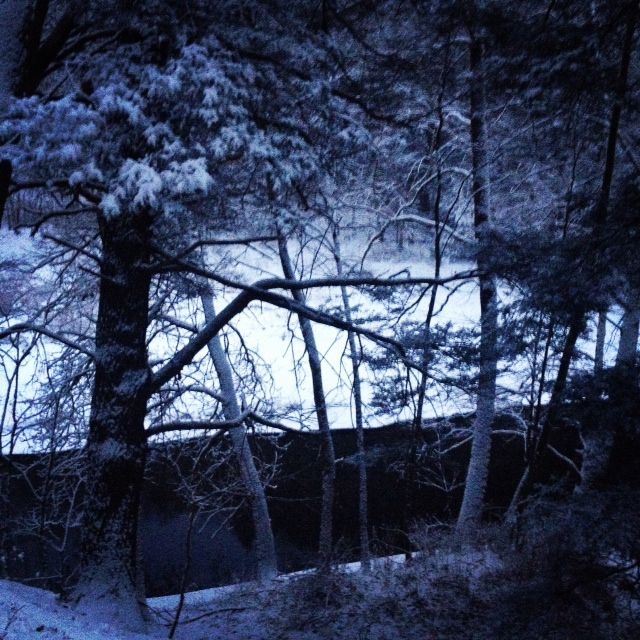 This episode includes the following segments: A Little Bit of Learning, The Back Porch, and Double Happiness.
---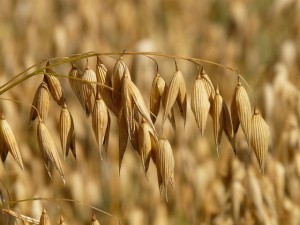 A Little Bit of Learning
In February, oats are in the spotlight for our bulk bins cook along.  Little is known about the uses or cultivation of oats prior to the time of Christ.  What we do know is that, because of their bland flavor and susceptibility to spoilage, oats were not highly prized or widely consumed by people.  The Greeks and Romans considered oats to be diseased wheat.  Gradually, oats came to be cultivated in Scotland, Ireland, German and many Scandanavian countries — they prefer a cool, moist climate.  Oats were introduced to North America by Scottish settlers in the early 1600's, and were first grown off the coast of Massachusetts.  George Washington sowed nearly 600 acres with oats in the late 1700's.  Cultivation shifted to the midwest, and has declined; much of the acreage once used for oats has been re-assigned to soybeans, which are a more financially lucrative crop.  A resurgence in oat consumption began in the 1980's, upon publication of studies which have shown oats and oatmeal to be effective in lowering cholesterol and improving heart health.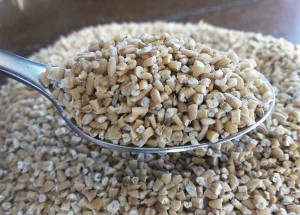 There are many varieties of oats available, so home cooks can expand their skill set by experimenting with different types:
steel-cut oats — kernels cut through with a steel blade, resulting in a dense and chewy texture (see photo)
old-fashioned — steamed and then rolled flat
quick-cooking — steamed and cut finely before rolling
instant — partially cooked, then rolled thin and dried, often combined with sweeteners, powdered milk, and flavors
oat bran — the outer layer of the grain, found just under the hull (most kinds of oats will contain oat bran, but you can also buy it in concentrated form)
oat flour
oat groats — unflattened oat kernels
---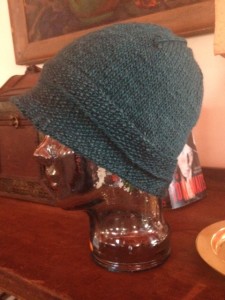 The Back Porch
This week I completed the Fellowes Cloche by Amy Herzog.  I felt challenged by the w&t (wrap and turn) directions in the pattern, and wish that I had been familiar with the ease and versatility of the dbl-st (double stitch) and the technique of using German short rows when I was working on the brim.  However, I'm very pleased with the densely-textured look of linen stitch knitted in a single-ply yarn of alpaca, wool and silk.  The hat's band is tacked on and hides some of the sloppy stitches.  I think this would be a good pattern choice for chunky handspun singles.
---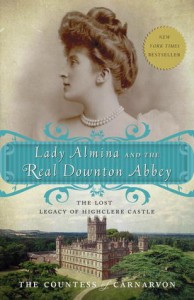 Double Happiness
Have you been watching Downton Abbey this season? Can't get enough, right?  I'm sure many knitters received a copy of  The Unofficial Downton Abbey Knits as a holiday gift.  I've also seen and heard several reviews of the patterns in the issue.  This week, I've been enjoying the articles.  If you suspect you're likely to enter DA withdrawal when the season is over, I recommend having this book on hand. The Eighth Countess of Carnarvon, Fiona Herbert, has researched the life of her predecessor, Lady Almina.  This book is an enjoyable read and contains many photographs of Highclere Castle, where DA is filmed.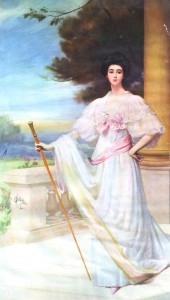 On page eight of The Unofficial Downton Abbey knits, there's a portrait of the Duchess of Marlborough, Consuelo Vanderbilt. The article, "For Richer, Not Poorer," provides a brief overview of the Gilded Age custom, of wealthy American heiresses marrying English lords.  This summer, when I visited Marble House in Newport, RI, I saw many, many portraits and photographs of Consuelo.  Reported to be a great beauty, she often looks perfectly miserable in her frilly dresses and constricting corsets — maybe she had a premonition of her future.  Although she championed women's suffrage,  Alva Vanderbilt was determined to land a titled husband for her daughter, who was worth about $20 million when she had her debut in 1895.  Unlike Cora and Lord Grantham of DA, Consuelo was miserable with the Duke, and eventually ended their marriage.
Oats, as defined in Samuel Johnson's dictionary: Eaten by the people of Scotland, but fit only for horses in England.
Scotsman's retort: That's why England has such good horses, and Scotland such fine men!