Episode 18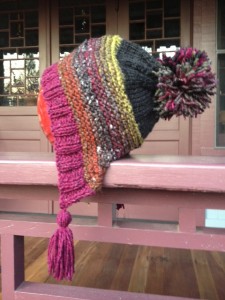 This episode features the following segments: Double Happiness, The Front Porch, The Back Porch,  A Little Bit of Learning, and Gratitude Journal.
---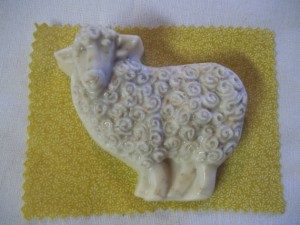 Little Things Contest
Low temperatures, nasty weather, less sunlight, holiday stress … December can be tough on us. Let's look to the little things as a way to keep smiles on our faces.  This giveaway is generously sponsored by Spinner's End Farm. Sherry will put together a little collection of goodies to pamper and nourish your skin: goat's milk soap, lotion bars, lip balm — a selection of handmade products to delight your senses and calm your holiday-wearied nerves. To enter, post a reply to the contest thread by January 4th.  One winner will be randomly selected from the contest entries.  If you can't wait to find out whether or not you're the winner, head on over to the Etsy shop and pick out your stocking stuffers now!
---
Double Happiness
There's nothing like the double happiness of Thanksgiving leftovers.  No matter how big the turkey, and how voluminous the amount of stuffing and mashed potatoes, there never seem to be enough leftovers to accomplish all of the ideas I have for enjoying them.  One of my favorite ways to stretch the yield of Thanksgiving's bounty is to make stock from the turkey carcass.  Since I grill my turkey on our Big Green Egg, the bones and skin are wonderfully smoky.  I can't wait to make some mushroom risotto with the turkey stock.
---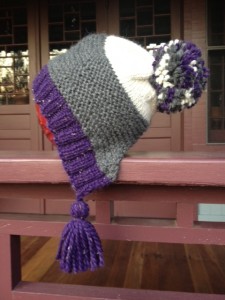 The Back Porch
I completed my top secret gift hat, but couldn't stop there.  This week, I made two more hats from Adela Illichmanova's Capucine pattern.  Wonderfully versatile and quick to knit, this hat can look very different depending on the yarn you use.  There are three distict sections of the hat: a ribbed border, a garter stitch middle, and a stockinette peak, not to mention pompoms and tassles.  It seemed logical to use a different yarn for each section.  I used up three colors of Plymouth Yarn Baby Alpaca for a hat with an enormous pompom.  Won't Renee be surprised when the same yarn she purchased for me on her vacation is returned to her in the form of this crazy hat!  I liked it so much that I made one for myself, using some leftover yarn and some purchases from Mountain Knits and Pearls' Black Friday sale.
---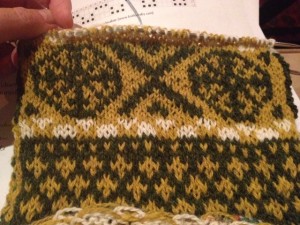 The Front Porch
This month, I'll be working on my advent scarf.  A portion of the pattern is delivered into my mailbox each night by a little elf.  It's the first thing I look for when I open my email in the morning.  Then, I daydream about it all day and rush home to continue working the pattern.  This is stranded knitting, in three colors.  I've selected some Harrisville Designs Shetland for this pattern, and I'm using the suggested US size 2 needles.  It's so much fun to think of folks from all around the world sitting down each evening to work on the same pattern.  Thank you, zemy, for taking the time to create this pattern, send it out each day, patiently respond to everyone's question, and cheer us all on as we post photos of our progress.
---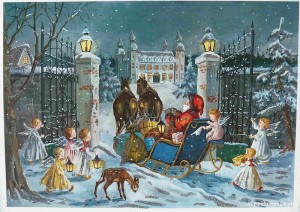 A Little Bit of Learning
Working on the advent scarf reminded me of the advent calendars my sisters and I were given as children.  Most of them were glittery pictures of winter scenes, featuring 24 little doors to open each morning.  Sometimes there would be a picture inside, sometimes a Bible verse, and once there were German chocolates.  When I searched for images of advent calendars, I think I recognized some of them as the ones we had in the 1970's and 80's. The concept of an advent calendar originated with German Lutherans in the early 19th century, although the practice of counting down days in the advent season, with a wreath or by lighting candles, has been popular since the 17th century.
The snow falls on no two trees alike, but the forms it assumes are as various as those of the twigs and leaves which receive it.  They are, as it were, predetermined by the genius of the tree.  So one divine spirit descends alike on all, but bears a particular fruit in each. The divinity subsides on all men, as the snowflakes settle on the fields and ledges and takes the form of the various clefts and surfaces on which it lodges.                                                                 — Thoreau