Episode 104: Head, Hands & Heart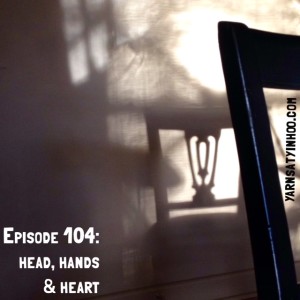 This episode comes with warm wishes for a happy new year.  It is time to review 2015, set goals, make plans, and dream a little. I will be focusing on balance this year: balance of interests and commitments, balance of mind and body, and balance postures in my yoga practice. Join the discussion and share your journey here. Thank you to everyone who has sent along sock knitting suggestions and kind words of support. I'm pleased to report that my Christmas cast-on socks are complete! This year, I will be on a quest to find the sock knitting formula that best suits me.
---
Xmas Cast-on
My first pair of socks knit on dpns is complete. I very much enjoyed knitting them. Likes: tubular cast on, knitting rib for the cuff and leg, turning the heel, and kitchener stitch. I don't care for the density of the heel flap and the sock overall is not as snug as I wish. But it's just the beginning of the year of the sock.
GOALS for 2016
keyword: b a l a n c e
the quest for my idea sock formula
year two of #handmadewardrobe
#embroidermore
brioche continued!
meditative spindling
#powerpantry — ingredient of the month
---
#powerpantry ingredient of the month: potatoes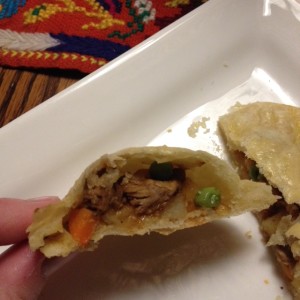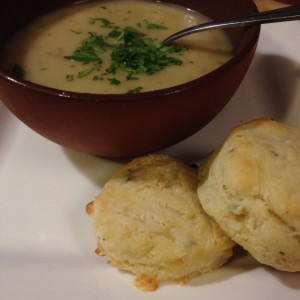 This year, I'll select an ingredient each month and try my best to keep this ingredient in mind as I search for recipes, experiment with standby meals, and improvise in the kitchen. I'll begin with potatoes, a staple for the cold winter months. Cook along with me or choose your own ingredient. This way, we can keep seasonal and local foods at the forefront of our power pantries. Share your tips, recipes, links and photos here.
I made pasties using leftover duck from our Christmas Eve open house, leftover scalloped potatoes from the family Christmas dinner, and some staple ingredients like onion, carrot, and frozen peas. A tablespoon of the mixture between rounds of buttery pie crust made a delicious weeknight meal. The potato and leek soup recipe from The Irish Pub Cookbook paired nicely with a biscuit recipe from The New Cast Iron Skillet cookbook.
For the soup, I left the skin on my potatoes and used about 1/2 cup heavy cream, plus 5 cups of turkey stock from my Thanksgiving bird about about two cups of water. The biscuits featured grated ends of leftover cheeses and some very finely diced cured meats. Using leftovers in creative ways like this makes me feel that I'm getting the most out of specialty ingredients!
---